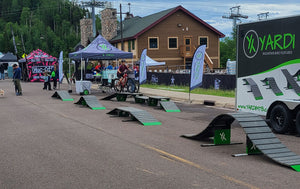 Our Holiday Sale is On! Check out our best sale prices of the year on select items.
GET YOUR FREE WHEEL KIT ON PURCHASES OVER $1000!
EXPLORE THE YARDI SCOUT LINE OF MOUNTAIN BIKE PRACTICE FEATURES
Build your dream course in your backyard with our Rubicon Features!
Mountain Biking Features & Courses
for a better riding experience
Don't have mountain biking trails nearby? No worries! Yardi premium mountain biking features can bring the love of mountain biking to you. Whether you're an individual mountain bike rider looking to master your skills right in your backyard, a coach looking to help your students excel, or a community recreation director who wants to build an exciting outdoor adventure in your local park, we have the right fit for you!
PRACTICE AT HOME!
Learn to roll, jump, and drop in your backyard! With Yardi, you can build your confidence and ride harder and safer.
BUILT FOR RIDERS - BY RIDERS
Thoughtfully designed to be stable and sturdy so they won't shift around during use. Yardi features are built to last with heavy duty, commercial grade materials. Whether you're looking for a ramp, a kicker jump, a roller, a skinny, a teeter totter, a platform or a full course, you are going to love the quality and performance of Yardi mountain bike features.
*All Yardi products are original designs with patents pending.

NOT SURE WHICH YARDI PRODUCT IS BEST FOR YOU?
Whether you're a newbie or a pro, our portable mountain biking ramps and features will help you develop skills and build confidence anywhere. Let's talk and see what is the best fit for you!
Let Our Customers Speak For Us
We got the Yardi Original Track for our kids for Christmas. It's excellent quality! Shipped on time. We set part of it up in the snow for jumps on the sledding hill. The kids love it! We can't wait to set it up for biking and driving remote control cars this summer!

Michelle K
"The key to skills instruction is progression. Yardi MTB gives us the tools for establishing fundamental skills anywhere we want."

Coach Shea Franken
I have used these features to coach hundreds of NICA riders on how to do drops, climb up ledges, and improve their balance. Not only are they great for entry level riders—I've found them to be surprisingly fun for advanced riders. You can create some incredibly difficult challenges with these features that mimic real world terrain. Proud to own and use these regularly!

MTB Coach Christian Peper
Yardi is a proud sponsor of: