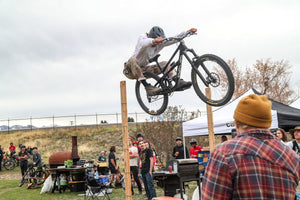 Sponsored Event: Cranksgiving 2021
We've never seen Yardi ramps used to this extent-  
When Christian Peper approached us about sponsoring his fall-time jump jam in Salt Lake City, called Cranksgiving, we knew it be a good time. Gathering the community for food, fun, and friends is always a hoot, but add in bikes and a few friendly contests and it goes to the next level.
Virgil Lund cooking dogs on the grille for the crowds
Solid event attendance, with several hundred riders and spectators
Christian's idea for our involvement was to do a "modified" bunny hop contest, where riders would hop off of the Yardi Large Ramp to clear the bunny hop bar. Consequently, he built a bunny hop bar that went up to 8 feet high (!) for riders to jump over.
What was on the line for the winner? A crisp $100 bill.
Things started out casual at 4 feet:
Owen Timm fully stoked on his Marin
The crowd was pumped but still preoccupied with friends and food from the grille.
As the height grew, so did the crowd.
This grom was sending it with the big kids!
Christian and Hayden scooting back the Yardi Large Ramp and raising the bar 
Bryn Bingham throwing down a large hop
By the time the bar got to 6 feet high, the riders had thinned out to only the elite and the crowd had grown twice in size and three times in volume.
Thom Brooks skying his Fezzari Delano over the 6 foot mark
Wyatt Thompson cheesing as he goes for the 6 foot mark
Only two riders cleared the 6.5 foot mark--Brady Tweedy and Christian Peper.
Brady Tweedy tucked up to clear the 6.5 foot mark on his Revel Bike
They scooted the Yardi ramp back a foot one more time and raised the bar to 7 feet.
This was going to be a serious huck!
Christian sucking up the bike for every millimeter of clearance on the 7 foot bar but coming up just shy
With a failed attempt each, Brady decided to give it one last go to hopefully put some space between him and Christian. 
Unfortunately it resulted in a solid slam, leaving the bunny hop contest a straight tie between the two!
Brady took a moment to rest on the ground following his contest finale slam
Pretty wild to see riders sending it over head high using our 17" Yardi Large Ramp. It was definitely a treat to see so many riders sessioning our products!
Should this event be an annual thing? Let us know your thoughts in the comments below! 
Big thank you to Christian Peper for organizing and Mary McIntyre for these beautiful photos. Additional thank yous to the other sponsors; Cannondale, Hangar 15 Bike Shops, Vittoria Tires, and Zoic Clothing.
---