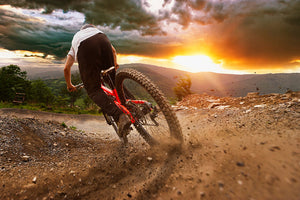 Enjoy Some of the Best Mountain Biking Races in the States!
There are many ways to enjoy mountain biking from a leisurely ride in the woods to tackling a skills course. But who doesn't love a little adrenaline? Mountain biking is also an exciting sport that attracts adventure enthusiasts from all corners of the globe. With its challenging terrains, breathtaking landscapes, and a vibrant community, the United States offers some of the most exciting and memorable mountain biking races and competitions. Whether you're a seasoned pro, a beginner looking to test your skills, or an enthusiastic fan looking to cheer on the competitors, these events promise thrilling experiences and a chance to immerse yourself in the world of mountain biking. In this blog post, we'll explore some of the best mountain biking races and competitions in the USA.
Leadville Trail 100 MTB - Leadville, Colorado
Known as "The Race Across the Sky," the Leadville Trail 100 MTB is a legendary ultra-endurance mountain bike race held annually in Leadville, Colorado. Spanning a distance of 100 miles through the heart of the Rocky Mountains, this race challenges participants with high-altitude climbs, rocky descents, and technical singletrack. With its rich history and breathtaking scenery, the Leadville Trail 100 MTB is a must-do event for any dedicated mountain biker.
Downieville Classic - Downieville, California
The Downieville Classic is a two-day event that combines cross-country and downhill racing in the beautiful Sierra Nevada Mountains of California. Riders tackle a 29-mile cross-country course that includes a grueling climb followed by a thrilling descent. The highlight of the event is the downhill race, where competitors navigate a treacherous and technical trail, showcasing their skills and nerve. With its challenging terrain and picturesque surroundings, the Downieville Classic is a favorite among mountain bikers seeking an unforgettable adventure. Training on the Yardi Scout Original Track can help your riding skills get to that next level so you can tackle the Downieville Classic with confidence!
Sea Otter Classic - Monterey, California
The Sea Otter Classic is one of the largest cycling festivals in North America, offering a wide range of disciplines, including mountain biking. Held annually in Monterey, California, this event features cross-country races, downhill competitions, and even a dual slalom course. The Sea Otter Classic draws both professional riders and amateurs alike, creating an inclusive and exciting atmosphere for all participants. Beyond the races, attendees can explore a vast expo, test new bikes, and engage in various cycling-related activities.
Whiskey Off-Road - Prescott, Arizona
Taking place in Prescott, Arizona, this multi-day event offers a range of races for all skill levels. The highlight is the "Whiskey 50," a demanding 50-mile (80 km) race that challenges riders with technical climbs, descents, and rocky terrain. Check out this cool race and enjoy some gorgeous views in Prescott, too!
Chequamegon Fat Tire Festival - Hayward, Wisconsin
Held in Hayward, Wisconsin, the Chequamegon Fat Tire Festival race has become a beloved tradition in the Midwest. The 40-mile (64 km) Chequamegon 40 is the main event, attracting thousands of riders each year to experience the beautiful forest trails of the Chequamegon-Nicolet National Forest.
Whistler Crankworx - Whistler, British Columbia (ok, so this one is near the USA)
While not in the USA, the Whistler Crankworx event in British Columbia, Canada, is a must-mention for any mountain biking enthusiast. Held in the renowned mountain biking destination of Whistler, this ten-day festival celebrates all aspects of the sport. With a variety of disciplines, including downhill, enduro, and slopestyle, this event attracts top athletes from around the world. The vibrant atmosphere, stunning trails, and thrilling competitions make Whistler Crankworx a bucket-list experience for any mountain biker.

The United States is a haven for mountain biking enthusiasts, offering a variety of exhilarating races and competitions to test your skills, stamina and in some instances, bravery! No matter what type of race you're looking for, you'll be sure to find some amazing races, incredible bikers and gorgeous scenery. And don't forget to check out The Northwest Cup (Pacific Northwest) to master downhill racing, Eastern States Cup on the East Coast for enduro, and of course the MOAB mountain biking trails in Utah!
---