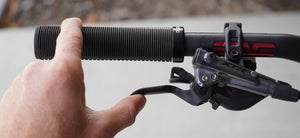 Tailor Your MTB Cockpit
Christian Peper's custom Cannondale Habit
About the author
Known for his creative lines and rock solid bike control, Christian is a professional athlete for Cannondale Bicycles, Vittoria Tires, ZOIC Clothing, ENVE Composites, and Chris King Precision Components. He has only been riding full suspension MTBs since 2018 but immediately fell in love with mountain biking and quickly gathered a social media following due to his style on a trail bike. He is also a heavily booked MTB coach, training riders on topics from cornering to jumping.
Intro
Cockpit setup makes a HUGE difference in how your bike handles. Dialing it in is important to maximizing your comfort and control. Setup is closely tied to terrain preference, as the location of your controls depends heavily on the way you will be riding. In my opinion, cockpit setup is also very subjective and personal, so take my advice with a grain of salt. 
Bars
Handlebars tend to come in various heights and widths.
It's very common to see cross country riders with flat bars (which helps get your weight more over the front of the bike), trail/Enduro riders with 20-30mm rise bars (for a good neutral position between descending and climbing), and DH riders and jumpers with high rise bars (50-80mm to allow a straighter back when taking heavy impacts or jumping high). I am personally 6 foot one and enjoy handlebars in the 40 to 80 mm range.
Widths normally range from 740 to 810mm, with aggressive riding tending towards the wide side. I like 760-780, however, as I feel wider is unnecessary unless you're a wicked fast enduro or DH racer. Narrower means slightly more manageable when cornering or jumping and turning your bars in the air.
The bottom line — try moving your stem height around a bit to find what height you prefer, then pick a bar height that will get you into the middle of the range of your comfort. When you buy a new set of bars, ride them for a little bit before choosing to trim the width. Take off little by little until you find something that feels just right. A hacksaw will do just fine (I recommend using a cutting guide clamp for clean cuts. Also make sure you pick your blade according to the material you'll be cutting—bars are usually aluminum or carbon).
 Christian runs ENVE's M9 handlebar, which has a 50mm rise. He trimmed the width from 810mm to 770mm
Grips
In my experience, many complete mountain bikes come with stock grips that really stink. I've had experiences as bad as completely numb hands by the time I reach the bottom of a downhill. I usually recommend something like the ODI Elite Pro grips as a good all rounder, but if you have big hands you should look into a larger diameter grip like Kyle Strait's signature "Meaty Paw" grips.
Favorite grip recommendations: Anything from ODI, Sensus, or Deity. If you suffer from hand fatigue, check out the ESI Chunky Monkey if you need a lightweight XC grip or the RevGrips if you're a more aggressive rider.
 These Fabric lock on grips pass Christian's comfort test, too
Levers
Levers… Here's how I "brake" them down (haha):
If you are doing any type of tricks and will be taking hands off the bike, move your brakes towards the stem such that you can barely grab the lever with your index finger. This prevents the levers from getting in the way/being accidentally grabbed when placing your hands back on the grips mid air. If you ride a lot of downhill and might need to brake with two fingers, move them closer to the grips. Remember—you never want them so close that a full pull results in the smashing of your other fingers.
I normally angle mine more vertically than horizontally, as I am standing tall on the bike for jumps etc. Downhillers will normally like them more horizontal because you're sitting off the back of the bike and it creates a more comfortable braking position that doesn't fatigue your hand.
Make sure your brakes engage early in the pull—if there is too much lever action before they engage you should probably have them bled or your brake pads examined.
 Notice how the brake engages early in the pull (at full depression the lever is still distant from the grip)
Saddle
There has been a frame geometry craze the last 5 years with seat tube angles becoming steeper and steeper. Why? Being more forward on the bike (while seated) really helps with comfort and power while climbing.
If you climb a lot I suggest accentuating this benefit by sliding your saddle rails forward. Notice there is usually a "MAX" line on the rails beyond which you should not go.
It is also standard for climbing comfort to angle your saddle perfectly horizontal, but this also depends on your body and preference. If you are more into jumping it can be advantageous to angle your seat with the nose up, as it will get the tail down and provide more clearance when drawing the bike up near to you in the air.
See the little delimiting lines on the silver rails? That's your range of fore/aft adjustability (you should never clamp on one of those lines)
Still have questions?
Drop a comment below and we will respond with our best advice (or we'll call Christian if we don't have the answer!)
---
1 comment