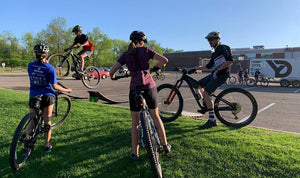 Yardi Empowers Everyone
The mountain biking community has grown tremendously over the last few years. Obviously, the Covid-19 pandemic had folks heading for the outdoors, but also, a renewed interest in riding among high schoolers and even younger kids has helped fuel the surge. Or maybe the increase in MTB popularity is because mountain bike riding is really for everybody.
Once a male-dominated scene, mountain biking demographics are changing. In a sport that encourages agility, confidence, grit, and of course, fun, it's attracting people of all ages, skills, and genders.
As with taking up any new sport, mountain biking has its learning curve. It might seem easy enough to learn the basics, but mastering it—that's a bit harder, and also the fun part.
The key to being a successful rider is patience, passion, and consistency. When you have the opportunity to ride frequently, you can develop your fundamental skills faster. That's when the magic of cycling unfolds.
If you don't live close enough to trails to ride as often as you'd like, it can take longer to get up to speed on your fundamental and technical skills. But with features and courses like Yardi, you have the opportunity to ride anytime you like.
The Yardi family of products enables anyone to get better at mountain bike riding quickly and safely through a gradual progression—and to have fun doing it.
The Yardi Scout line features high quality at a lower price point. You can build a variety of training courses to accommodate all levels of riding and all types of spaces—including your backyard. The Yardi Scout line is built from high-quality, galvanized tubular steel and composite decking to mimic features that you might find on a single-track trail. You can mix-and-match features to create the perfect riding experience for beginners to advanced riders. And the best part, once you've mastered a jump, a drop, or a roll, there's always another feature to add to keep you challenged.
The Yardi Rubicon line accommodates riders of all skill levels. The features and full courses are bold, stylish, built to perform, portable, scalable, and designed and manufactured in the U.S. While they are less heavy, the commercial quality makes them perfect for larger teams and outdoor MTB events. Coaches and parks and recreation directors alike can use Yardi Rubicon courses not only for competitive biking practice but for outdoor alternative adventure sports like bike rodeos in the park.  
Either line provides year-round opportunities for enthusiasts to develop their passion and create a better riding experience. For riders just getting into mountain biking, you can get started with a single or paired feature and work your way up to a full course as your form, technique, balance, endurance, speed—and confidence—progress.
Making mountain bike riding accessible to everyone is easier with products like Yardi. Let us help you build your dream trail.
Contact us
today.
---